A brief update on my post last year regarding the "M22" road sign trademark lawsuit, Michigan v. M22 LLC, No. 1:16-cv-01084 (W.D. Mich.)
As a quick refresher, Michigan State Highway M-22 is a popular, scenic route that borders Lake Michigan along the Leelanau Peninsula. Along this route, there are numerous "M22" route marker signs. The Michigan company M22 sells a wide variety of merchandise bearing the "M22" mark, such as clothing, hats, stickers, magnets, glassware, and wine. M22 has been granted several federal trademark registrations, including an "M22" word mark and several M22 design marks. Pictured below is M22's design mark under U.S. Registration No. 3992159, along with a photo of an M-22 route marker sign.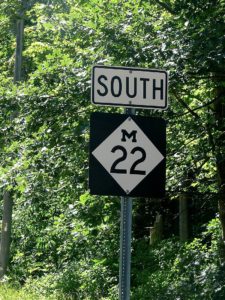 Last year, the State of Michigan filed a lawsuit against M22 seeking declaratory relief. Michigan alleged that trademark protection for the M22 design in Michigan's M-22 route marker signs is prohibited under the Manual on Uniform Traffic Control Devices (MUTCD). More specifically, Michigan argues that the Federal Highway Administration promulgated a MUTCD standard under which any road signage designs ("traffic control devices") required by the MUTCD on federally funded highways, including the M-22 signs, are in the public domain and shall not be protected by patent, trademark, or copyright.
The court recently issued an opinion in favor of M22, holding that the court lacked jurisdiction over Michigan's claim for declaratory relief. First, the court held that there was no justiciable controversy to invoke the court's jurisdiction. The court found that Michigan failed to allege that M22 had threatened to sue the state for trademark infringement, or that the state was planning to engage in any conduct that would give rise to a trademark infringement suit by M22 (such as selling goods or services bearing the M22 marks).
Second, the court held that Michigan lacked standing as there was no concrete injury alleged. Michigan's main argument as to concrete injury was that Michigan risks losing federal highway funding if it does not comply with and enforce state and federal laws and regulations, including the MUTCD. The court disagreed, determining that Michigan had not alleged facts showing how the registration of M22's marks would prevent Michigan from complying with the MUTCD, that there was any risk of losing federal funding, or that Michigan has any power to enforce the MUTCD against private third parties.
This decision is a big win for M22 LLC and its business line based on the M22 marks. It is also encouraging for many other trademark owners, as there are hundreds of registered trademarks that include designs of road signs (e.g., US-1). What do you think about this case?