A week ago, over at The Fashion Law, an Independent Source for Law, Business and Culture, an enjoyable trip down memory lane was published about the history of trademark protection regarding Louboutin's red-colored sole mark.
What I hadn't seen before now is Christian Louboutin's quote "then it popped":
"The concept shoe, with its stacked heel and floral applique, was missing something. As the story goes, the designer, Mr. Christian Louboutin, reached for a bottle of red nail polish — 'Thank God, there was this girl painting her nails at the time,' he told the New Yorker — and with that, the shoe's sole went from a dull black to a striking red. 'Then it popped,' and the foundation of a footwear revolution was born."
As you may recall, we've written quite a bit about this very topic over the years:
Louboutin Red: Blending Into the Background
Louboutin Red-Sole & Surrounding Contrast: An Implied Trademark Limitation
Louboutin: Still Waiting on the Second Circuit Court of Appeals
Louboutin Wins Second Circuit Appeal, Sort Of . . . .
Let's not forget this word jumble gem, visually illustrating the key point of how another's mark can be invisible depending on the context and surroundings:
Then, voila, when the circumstances, surroundings, and emphasis are just right, the allegedly infringing mark may "pop" and suddenly come into visibility:
We found the above illustration helpful to explain why Louboutin's red sole mark could not reach or prevent the sale of Yves Saint Laurent's monochrome red shoe: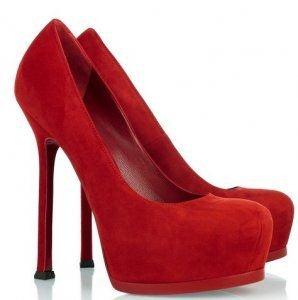 As I wrote, eight years ago:
"In fact, I'm left wondering whether an average consumer would even discern Louboutin's red sole mark in Yves Saint Laurent's monochrome red high heel shoes, anymore than they would notice the LOUBOUTIN mark in the colorless letter grid at the top of this post, or whether they would more likely and simply see a harmless sea of letters and a harmless sea of red throughout the entire shoe."
So, the "pop" is not only important in the context of whether another's mark is actually being used and is subject to a charge of infringement, but the "pop" is also important in determining whether the non-traditional single-color mark exists in the first place, and if so, what the appropriate limitations are on it:
"Equally important to explaining why there is no valid trademark claim, is what I believe to be an inherent or implied limitation in Louboutin's red-sole single-color trademark registration: The critical need for visual contrast between the red-sole and the surrounding portions of the shoe."
And, that implied limitation is consistent with how Louboutin's U.S. trademark registration was expressly modified and narrowed in scope, from broadly being described as "The mark consists of a lacquered red sole on footwear" to more narrowly, as: "The mark consists of a red lacquered outsole on footwear that contrasts with the color of the adjoining ("upper") portion of the shoe."
Interestingly, The Fashion Law also reports that Louboutin has made progress on seeking registration of the red sole mark in China, after a decade of appeals. It doesn't appear though that any "contrast" or "pop" is built into the application, so stay tuned, we'll need to await seeing whether Louboutin's claimed mark pops into registration, or whether its bubble is popped on securing ownership in China.
Last, as to another kind of "pop," as you know, I grew up in Iowa, so "pop" meant and still means any old carbonated soft drink, so what do you call that drink?